NVIDIA Quadro RTX and HTC Reinventing VR and Collaboration in 2020
NVIDIA® Quadro® RTX™ and HTC are bringing people together through VR. This partnership is enabling businesses, governments, institutions, and individuals to safely bridge the social distancing gap during this tumultuous and transformative time. NVIDIA Quadro RTX GPUs offer the most advanced VR hardware platform and HTC is the leader in innovative VR HMD (Head Mounted Display) technology. Best part, no hand sanitizer or masks are needed.
By joining this webinar, you will learn more about:
• AEC (Architecture, Engineering and Construction) benefits from VR design optimizations that reduce construction costs, project reviews at scale that enhance creativity, and virtual walkthroughs for clients.
• Manufacturing VR benefits, including initial concept identification, design reviews, digital prototyping, and VR-enabled retail experiences to sell your product.
• Media and Entertainment uses for VR to tell digital stories in new and compelling ways, open creative vistas, and offer alternatives to traditional venues—such as theatres.
• The ability VR has to connect people amidst COVID-19 restrictions and how it can reinvent the workplace, allowing organizations to emerge from this crisis stronger than before.
Date
June 25, 2020
Time
1:00PM EDT
10:00AM PDT
Duration
1 Hour
Includes Q&A
Chance to Win
All live webinar attendees will be entered into a drawing for a chance to win an NVIDIA Quadro RTX 4000 and HTC VIVE PRO HMD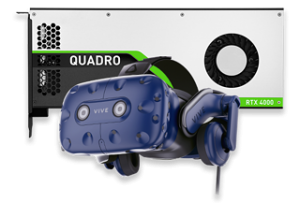 Register Today
You're always welcome to join the webinar by any means that works best for you. Please note, to be eligible for the giveaway, you must join the webinar by computer (so that your user ID and information are tied to your registration).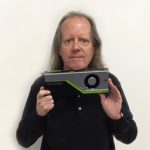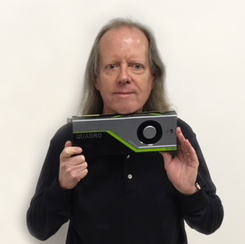 Carl Flygare
NVIDIA Quadro Product Marketing Manager, PNY
With nearly 15 years at PNY, Carl's deep knowledge of NVIDIA Quadro products that catalyze the development of innovative VR solutions across a broad array of professional markets, make him an ideal webinar participant.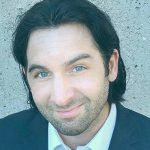 Jad Boniface
Senior Director, Developer Relations & Partnerships, HTC VIVE
Jad is focused on growing the VIVE developer ecosystem and engaging with a wide range of content creators and partners to build new virtual worlds and immersive experiences.