HTC VIVE Pro Secure: VR for Classified Information or Sensitive Commercial IP
This one hour session will provide an overview of HTC VIVE® products, with a focus on the VIVE PRO SECURE™, the fully TAA compliant VR solution cleared for use in government classified or secure agency, institutional, or enterprise environments where sensitive IP mandates Authority to Operate (ATO) certification.
This professional-grade VR system provides all the benefits and features of the award-winning VIVE Pro, including top-tier graphics, premium audio and SteamVR™ room-scale tracking, in addition to hardware modifications that restrict all radios, cameras, and wireless communication functions for secure performance.
By attending this training you will learn:
What makes VIVE Pro Secure unique in the marketplace.
The problems VIVE Pro Secure solves governments and businesses.
Who needs the VIVE Pro Secure product, and why.
…with the Vive Pro Secure system and leadership from Virtalis, we've finally been able to realize this value [VR] within our own secure environments. Allowing us to leverage virtual reality for cross-site collaboration has been the key to accelerating our product development cycles."
"The Vive Pro Secure has changed the entire way that we train personnel. Many of our service procedures vary in complexity and some are more dangerous than others so not only do we simulate and record single-operator procedures, but we also simulate team-based operations regularly. The Vive Pro Secure, when coupled with Virtalis' advanced visualization software, has allowed us to reduce risk and realize unseen value that we never even knew existed".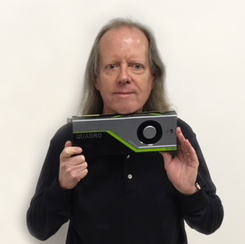 NVIDIA Quadro Product Marketing Manager, PNY
With nearly 15 years at PNY, Carl's deep knowledge of NVIDIA Quadro products that catalyze the development of innovative solutions across a broad array of professional markets, make him an ideal webinar participant.
Director of Enterprise Technical, HTC VIVE
David Myers is the Director of Enterprise Technical Services for HTC VIVE. Dave's efforts impact all aspects of HTC VIVE – including VR content, developers, partner engagement, hardware, and software integration as well as design and user experiences.
Director of Partner Marketing, HTC VIVE
Troy Wood is the Director of Partner Marketing HTC VIVE, managing the VR and 5G product lines. He has 15 years of digital marketing experience in emerging technology, focused on partner marketing and sales enablement.